We Manage your already existing Linens and give it a restart with our quality and smart app integrations*
Valet care is a service provided by Yo linens that offers customers a wide range of options for their laundry and linen needs. This includes but is not limited to, valet pickup and delivery, stain removal, and ironing. Customers can also choose to have their items washed, dried, and folded, or they can opt for a more complete package that includes all of these services.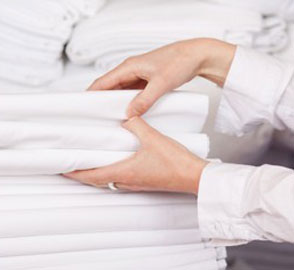 Yo linens is a linen management company that provides high-quality, stylish linens for Hospitality & Healthcare industry. We offer a wide range of colors and patterns to choose from, as well as a variety of fabrics to suit your needs.
Linens are one of those supplies that are always in demand but can be difficult to keep up with due to their high turnover rate. That's where linen rental services come in. We take the hassle out of constantly worrying about having enough clean linens on hand.
We maintain your stock, check the quality of the materials, and ensure that your guests never experience unpleasant surprises.
When you use a professional linen rental service, you can be confident that you are getting high-quality linens that meet all of the necessary standards for your hotels and hospitals. This peace of mind is priceless, as it ensures that your guests are always comfortable and well-cared for.